BlackHawk Development
Since 1999 BlackHawk Development has continued to meet the full-service needs of communities in cities like Spring Hill, Kansas. Recently Spring Hill was ranked "The Fastest Growing Community in Kansas." BlackHawk Development is one of the newest additions to Spring Hill, Kansas with a 98-acre development consisting of three communities.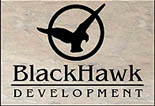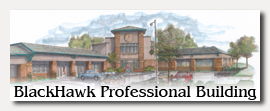 BlackHawk Professional Building
The BlackHawk Medical/Professional Building is the newest addition to the BlackHawk Commercial area. The building is conveniently located right off of 169hwy and 223rd Street. Located between the BlackHawk Retail Center and Day Brook Daycare Center. The Professional Building currently has 2 available units for lease. This 18,000 square foot building has ample parking with great exposure to Highway 169 and flexible layouts for your business. Join the other businesses that call the BlackHawk Professional Building their home.
Dr. Jerad Widman (Spring Hill Family Medicine)
Dr. Daniel Harding (Spring Hill Chiropractic and Acupuncture)
Dr. Kurt Echols (Spring Hill Family Dentistry)
Mr. Chad Chadoxx (Edward Jones)
Dr. Andrew Young (Young Orthodontics)
Mrs. Pam Daniels (Traffic Tech)

Commercial Amenities
BlackHawk Plaza offers spectacular highway visibility at the first true diamond interchange south of I-35 in Olathe on 169-highway. Blackhawk is located at the southern entrance of Spring Hill, exit on 223rd off 169-highway. This interchange has recently been recognized as having regional significance for both Johnson and Miami counties.

BlackHawk Commons
BlackHawk Commons offers maintenance-free twin villas that are perfect for seniors. A retirement community for those who want to live in a secluded setting with all the benefits of small-town living.

BlackHawk Estates
BlackHawk Estates consists of 134 single-family homes that are moderately priced and schools nationally ranked.